Myron Kartman Gives Master Classes at the University of Alabama

At the invitation of the School of Music at the University of Alabama in Tuscaloosa, Dr. Myron Kartman taught Master Classes in violin and Chamber Music in March of 2015. Dr. Kartman was, in a way, re-visiting his roots, since he had served as Professor of Violin at UA from 1969 to 1977. Carrying on the exemplary academic program in violin at UA at this time is Assistant Professor Jenny Gregoire, a remarkable artist and teacher in her own right, who coincidentally was one of Dr. Kartman's students during his tenure at Northwestern University.

A wide range of violin students at all levels, from the university and from the community, had the rare opportunity to receive intensive, personalized coaching from one of our nation's most highly regarded violin and Chamber Music pedagogues. Pictured in the photo below is the Capstone String Quartet, four graduate students with outstanding undergraduate guest violist, Laura Steiner. The group, preparing for an upcoming recital featuring the music of Beethoven and Brahms, was coached by Dr. Kartman.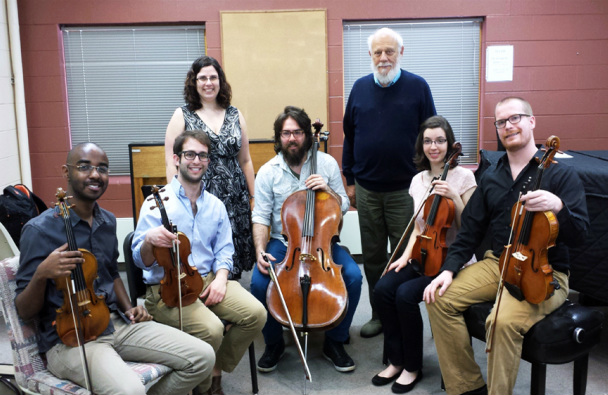 From left, Marcos Santos and Mat Madonia, violinists; Assistant Professor Jenny Gregoire; Michael Tavani, cellist; Dr. Myron Kartman; Laura Steiner, guest violist; Michael Sabatka, violist.
---
Evaluation and Feedback
A note from Jenny Gregoire to Myron Kartman:

"You inspire me at so many levels! Your musicianship, your passion for music, your honesty, your love for life, your incredible memory, and your insistence until something is right, are like lessons in themselves for all of us. I hope that you can come back in the future to work with chamber music groups."


---
Myron and Stefan Kartman Iowa Residency

In a partnership between Schultz Strings (Cedar Rapids, IA) and the University of Iowa, Myron and Stefan Kartman (
StefanKartman.com
) presented a series of Violin, Cello and Chamber music performance seminars during a residency sponsored by Schultz Strings that took place from November 5th through the 8th, 2014. All sessions were open to the public.
This memorable event featured a series of inspiring sessions with two of the most highly regarded string pedagogues of our time.
Evaluation and Feedback
"Thanks so much for taking the time to visit us at the University of Iowa. It was such an enormous pleasure to get to know both you and Stefan. We really valued your visit and all of your fine teaching. You have so very much to give and your help and teaching were tremendously appreciated here. I wanted to tell you how valuable your teaching and presence are to others. Inspiring! Again, many thanks for all of your time, energy, and wonderful teaching, Myron."

Sincerely,
Scott

Dr. Scott Conklin
Associate Professor of Violin
The University of Iowa
School of Music
---
If your institution or organization is interested in scheduling a performance seminar in violin and/or cello, please visit our
Contact Page
.
---